Corporate Event Hire
If you are planning an event such as a conference, awards night, charity fund raiser or fashion show, we have the experience, enthusiasm and equipment to ensure your event is successful .
Our event supply combines many of our services and products to deliver a complete A/V and lighting solution.
Awards, Conferences and Charity Balls
We have supplied Lighting, Audio, Visual and set dressing for many corporate events across the U.K.  Whether you are holding a small conference or large charity ball we have the experience, technicians and equipment to ensure that your event runs smoothly from start to end.
We have the facilities to offer multiple live cameras (with operators) at your event. Footage can be shown live on screens and recorded with the option of supplying a fully edited DVD.
Live Streaming of your event to online platforms is now  commonplace. We can edit your content live incorporating your organisations logo and colours.
If you are  looking to stream your event online during COVID, we can supply a small stage, backdrop with lectern(s), set and moving lighting with multiple or single point cameras.  This package can be delivered and setup within  offices and boardrooms etc and undertaken adhering to COVID safe practices.


VIP Events at Car Dealerships

We have a great deal of experience in providing lighting, black-out draping, audio and vision equipment for Customer VIP Events within the  car  showroom.
We work closely with your marketing team to supply you with a tailored package that suits both event and your budget.
Our black-out drapes are manufactured from wool serge and provide 100% black out which means they are perfect for daytime events.
We carry a large range of LED lighting in stock from Moving Heads through to LED Wireless uplights that can be used to great effect within the showroom.
Besides lighting and draping, we can provide discrete high quality PA systems for you event supplied with radio microphones and audio playback.  This can also be integrated with large LED TV's or a large scale projectors and screens showing promotional on-screen content.

Audio / Visual
We stock a large range of Audio / Visual equipment available for all events.. We stock projectors and screens that range from 3500 lumens to 7000 lumens, LED TV's displays up to 50″, cameras with operators, live vision mix and recording facilities.
Audio equipment can range from a 2 or 4 speaker setup for small events, through to a multi-speaker installation with delay lines for larger venues. Mixing can be provided from a small 8 channel analogue desk, to 64 channel digital consoles .
We have a range of radio microphone systems including discreet head-sets, hand held and lapel microphones.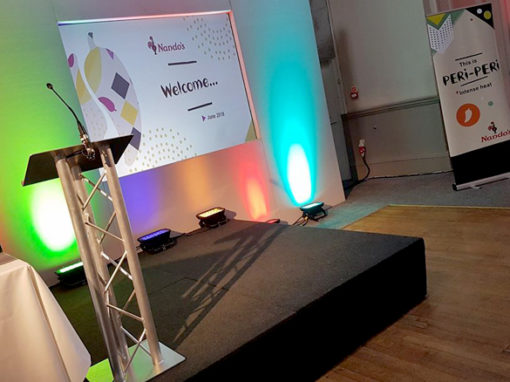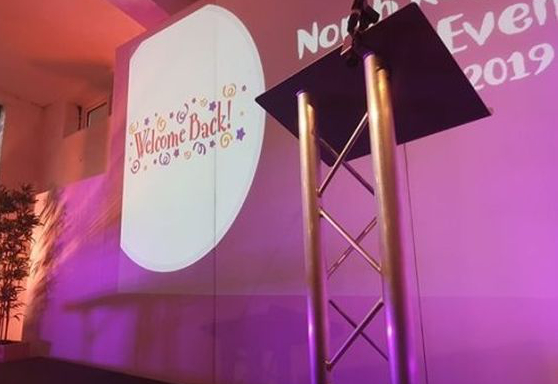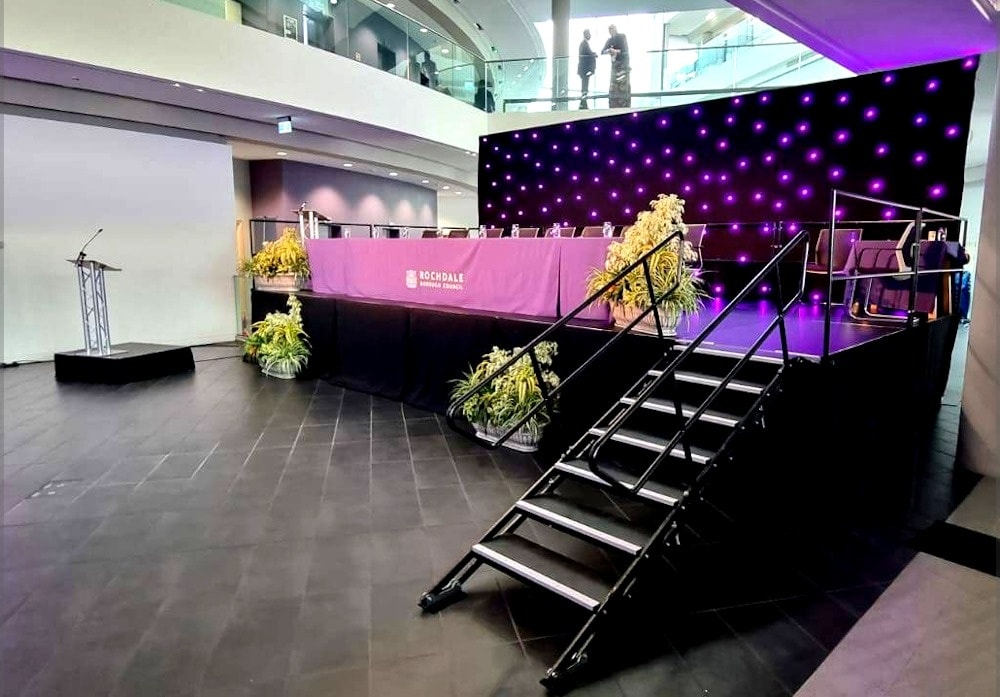 Staging
Using our range of portable staging, many size and shape configurations are available. All our stages come complete with front and side skirts. Various heights are available from 20cm to 1.8m with steps and handrails all finished in dark grey carpet. Set design incorporating projector screens and LED TV's can be installed  at the rear of stage allowing for rear-projection of visual content.
Lighting
To make your event stand out, our lighting includes the latest in LED moving head spot and wash fixtures controlled via Avolites Titan or GrandMA consoles.
To see our range of available Moving Head Fixtures – Beams, Spots  and Washes, please see our hire site.
For corporate events, we will create a 3D visualisation of your venue and send you visualisations of proposals for the stage, set, and lighting.
See our page on Pre-production and Visualisation.
We have a large stock of polished quad truss to allow building of stage sets and rigging for overhead lighting.