Wedding Lighting Hire
Discover our complete wedding lighting services, where we mix various lighting effects to create a special ambience just for your event. We're here to light up weddings in Cheshire, Greater Manchester, Lancashire, and Derbyshire!
From simple LED up-lights to light up your venue's edges, white voile draping, fairy light curtains or a fully customised lighting setup that brings that 'wow' to your space. No matter your budget, we're here to provide the perfect wedding lighting solution that suits your style and makes your day shine.
LED Up-Lighting
Using LED up-lights within your wedding venue will add effect and can be used to highlight features of the venue. We can colour match to your chosen colour scheme and program fades where required. With the control from a lighting desk, the up-lighters can fade between many chosen colours and if required chase to the music during the evening reception.
We have a large stock of battery uplighters available for hire, these are RGBW and have a white housing and come with IR remote or WDMX.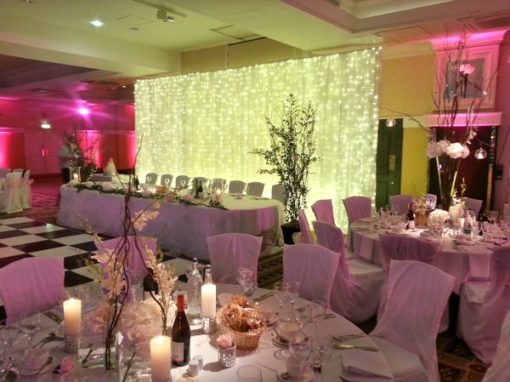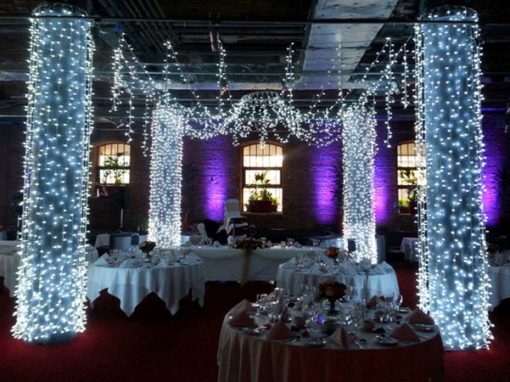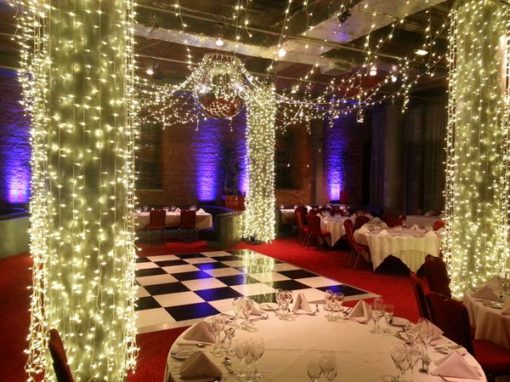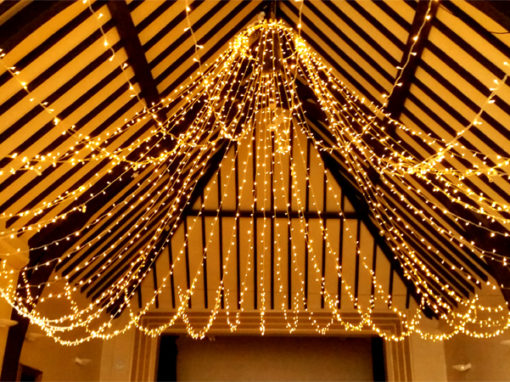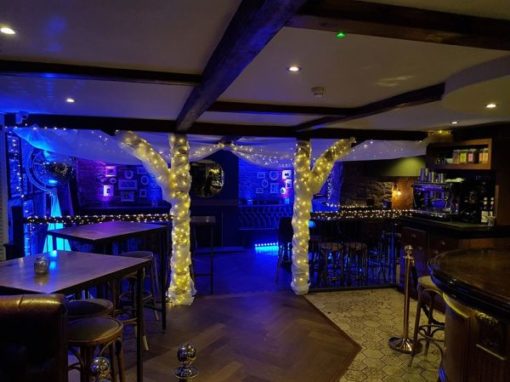 Fairy Light Backdrops, Curtains and String Lights

To create a wall of fairy lights or wrap around pillars, our 2m x 5m drop fairy light sets offer over 1500 LED's per set. Available in both ice white and warm white colours. These fairy lights are perfect for all weddings.
The fairy light sets can also be used to create a full ceiling canopy / drape.
Our fairy light curtain backdrops are finished in a white voile material that gives a soft and warm effect to the curtain. Sizes start at 2-mtrs to a maximum of 20m width with a maximum height of 5-mtrs. These are perfect for situating behind the top table.  All our voile fabric is steamed on-site to remove creases.

White Voile Draping
If you are looking to transform your venue, we have in stock a large quantity of white voile drapes. Each piece is 4-mtrs in length and is designed to fit our telescopic framework system. The draping can also be put to good effect to hide sections of wall in a room that you do not wish to have on show, The images on the right show a selection of venues and uses including ceiling drapes and draping gala tents / marquees.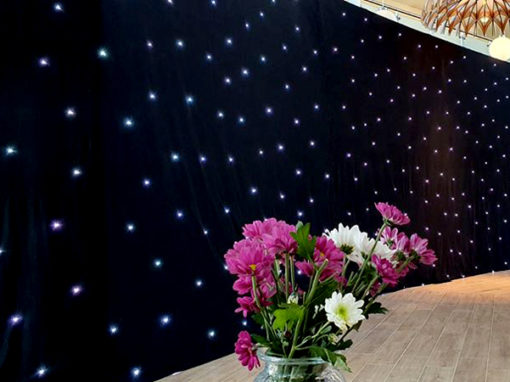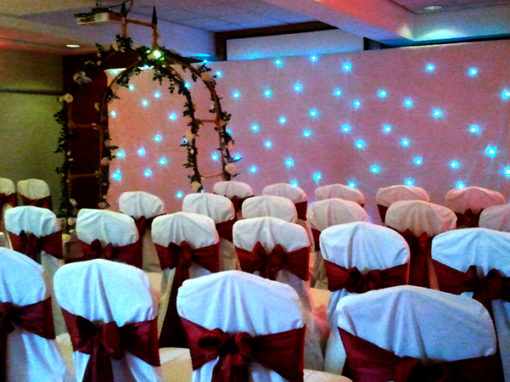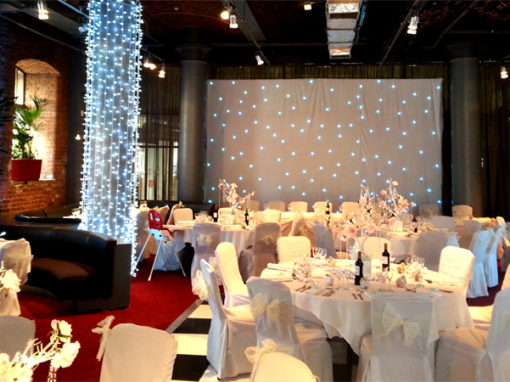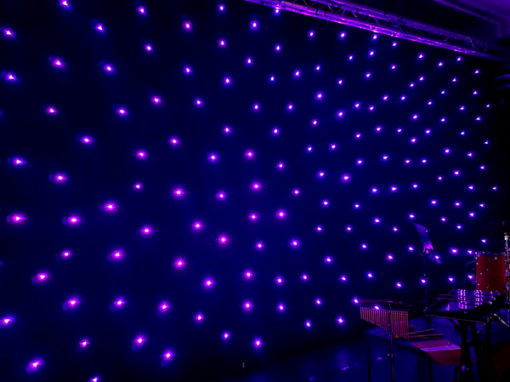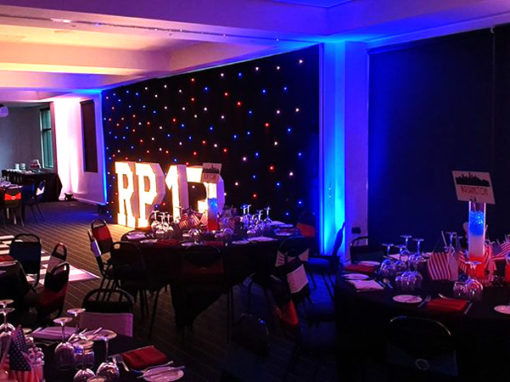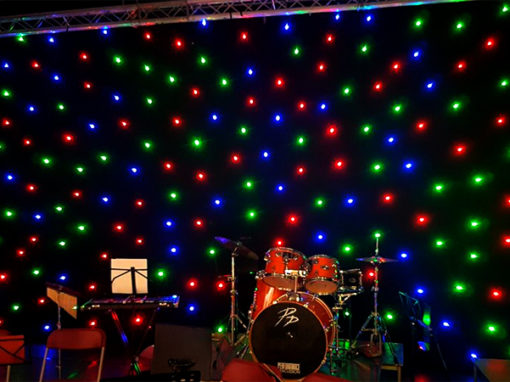 Star Cloth & Blackout Drapes
Our star-cloths are available in either black or white wool serge fabric with colour changing LED's and fibre optics. The effect can be set to static or to twinkle / colour chase. Our star-cloths are available in 6m x 4m (White) and 8m x 4m (black). Ideal used as a backdrop to the top table or behind a wedding band or DJ set-up.
Our star cloth are LED RGB colour mix allowing them to be set in any colour and can be controlled via a console if required.

If you require blackout drapes, by using our telescopic pipe and drape framework system, we can install custom sizes and shapes to suit your venue.
Mirror Balls
We have a large range of mirror balls for hire ranging from 200mm (8″) through to large 1-metre (40″) diameters.
Please see our page on Mirror Balls for more details.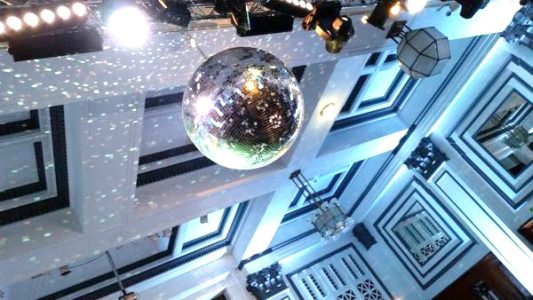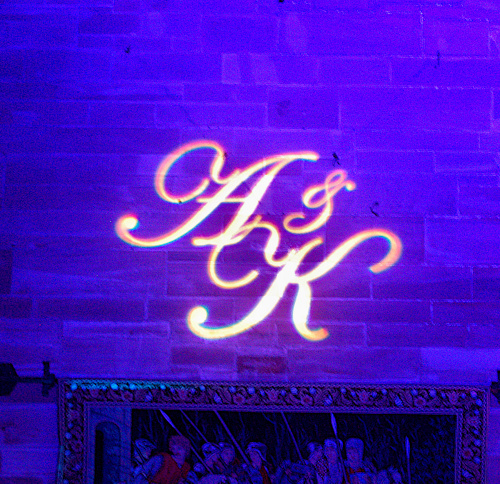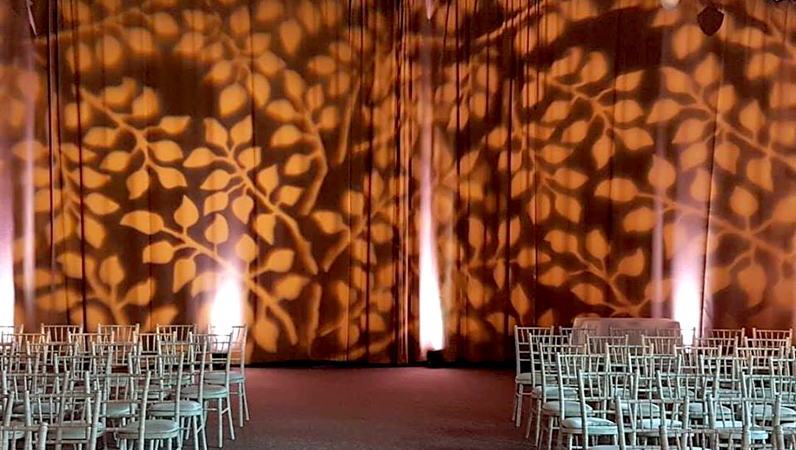 Custom Gobo's
Using custom gobo's at your event is the perfect way to make it unique.
Using a metal or glass etched gobo we can project your logo or custom design.  We can project your image / logo onto backdrops, walls, ceilings and dance floors
We are able to design your artwork for your projection, we provide 3-4 designs proofs, with your input from these initial designs, we can produce your final design before manufacture of your gobo. We always await design approval from the customer before manufacturing gobos.
If you have already produced your own artwork, you can email this through to our office and we can advise on the best method of projection.
Foliage Breakup Gobos
We are able to supply a large range of stock foliage and pattern breakup gobo's. These are perfect for making a feature of a backdrop, wall or an effect on stage floors.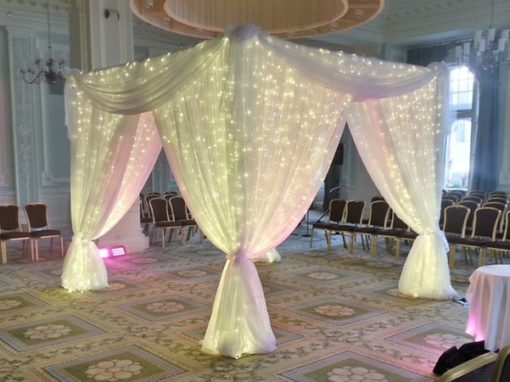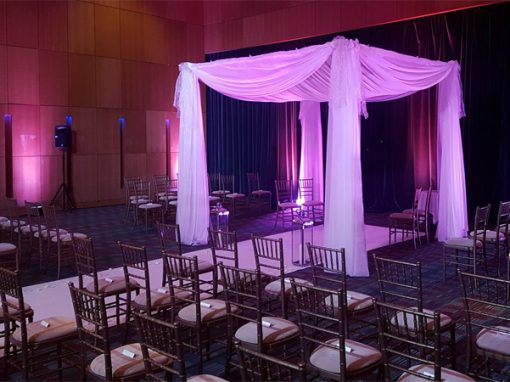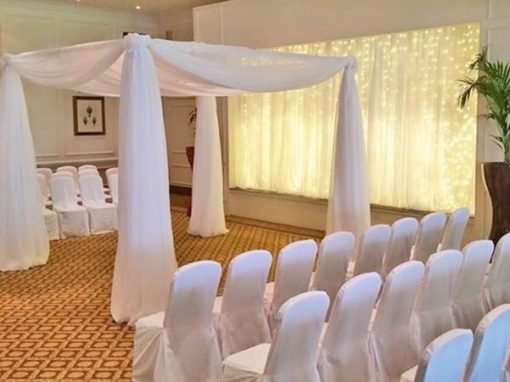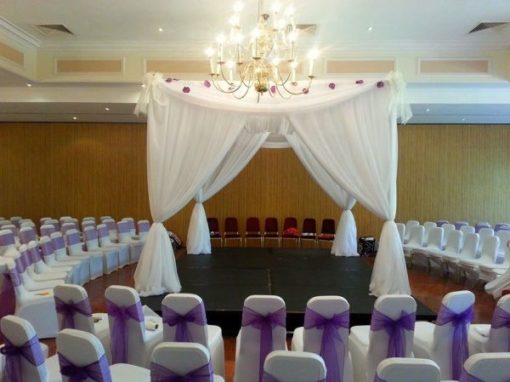 Chuppah Hire
This is our bespoke Chuppah for Jewish weddings. The Chuppah is finished in white organza fabric and can be decorated in many ways to make it unique to your special occasion. The ceiling is finished in white organza that is semi-transparent.
The images show a range of the Chuppah designs including fairy lights, these can be changed to ice white if required. The fairy lights contain a controller allowing the lights to be static, fading, twinkling etc.
LED Uplighters can be used to add a soft glow of colour to the chuppah.
See our Chuppah Hire page for further information.